Exploring Speciality Coffee
Sadly, not all coffee is born equal. It's not actually sad, we think it's great.
What is speciality coffee?
Speciality coffee does not simply spring up out of the ground as a ready-made product. While it's coffee bean, as a raw ingredient, and it's geography are important, it exists as described by the Speciality Coffee Assosication, "through the dedication of the people who have made it their life's work to continually make quality their highest priority".
It is an amalgamation of the consistent efforts and dedication demonstrated right through from the coffee bean farmers at it's source, to those who spend their lives roasting it and of-course, ultimately, those who drink it.
How is speciality coffee graded?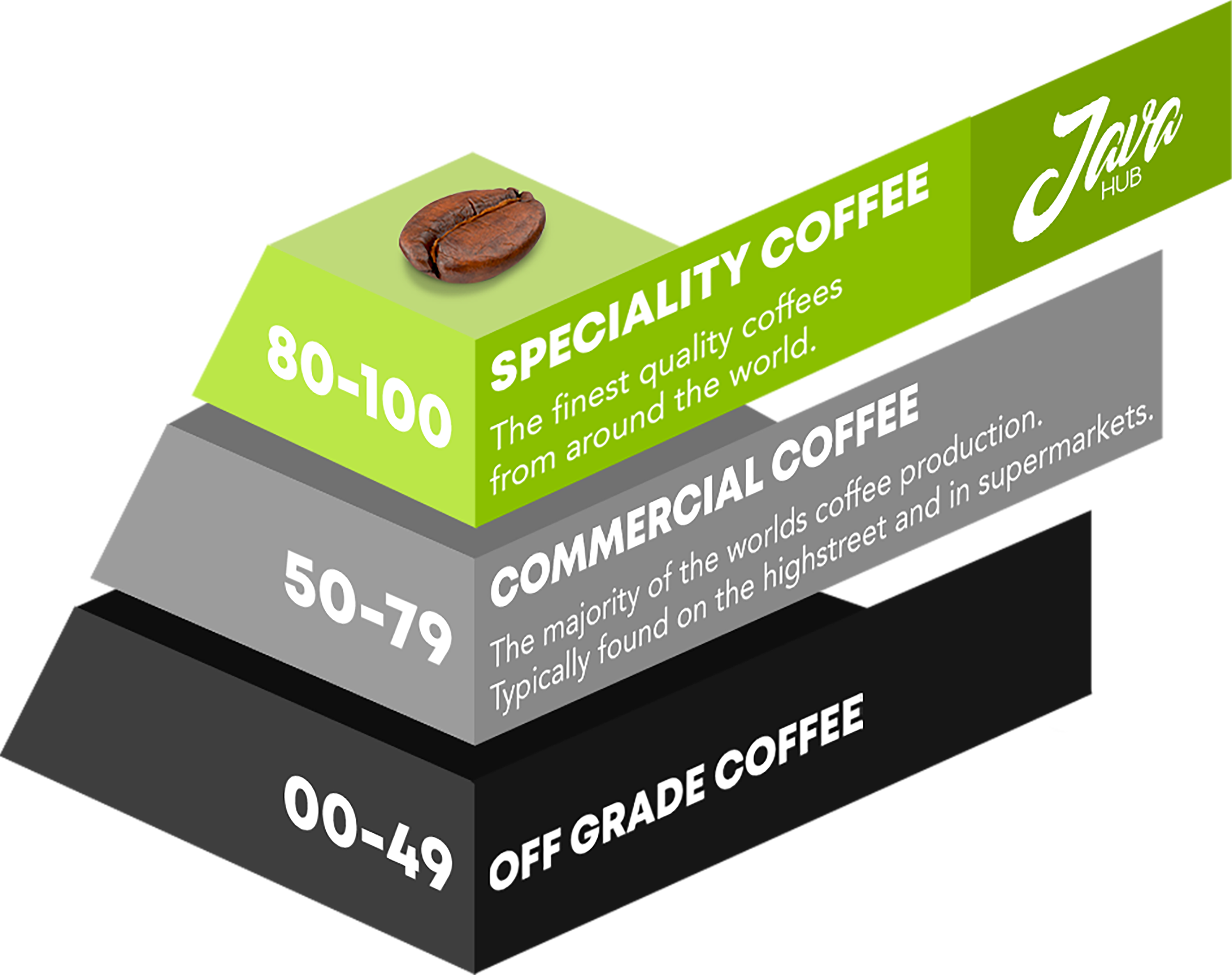 'Speciality coffee' is the title awarded when a coffee receives and SCA score of over 80 points on the grading system created by the SCAA (Speciality Coffee Assosiation of America), designed to differentiate the varying qualities in coffee.
Like you, we have a passion for delicious coffee, that is why all of our coffee has received over 80 in this scoring system and as such, are proudly recognised as a 'speciality coffees'.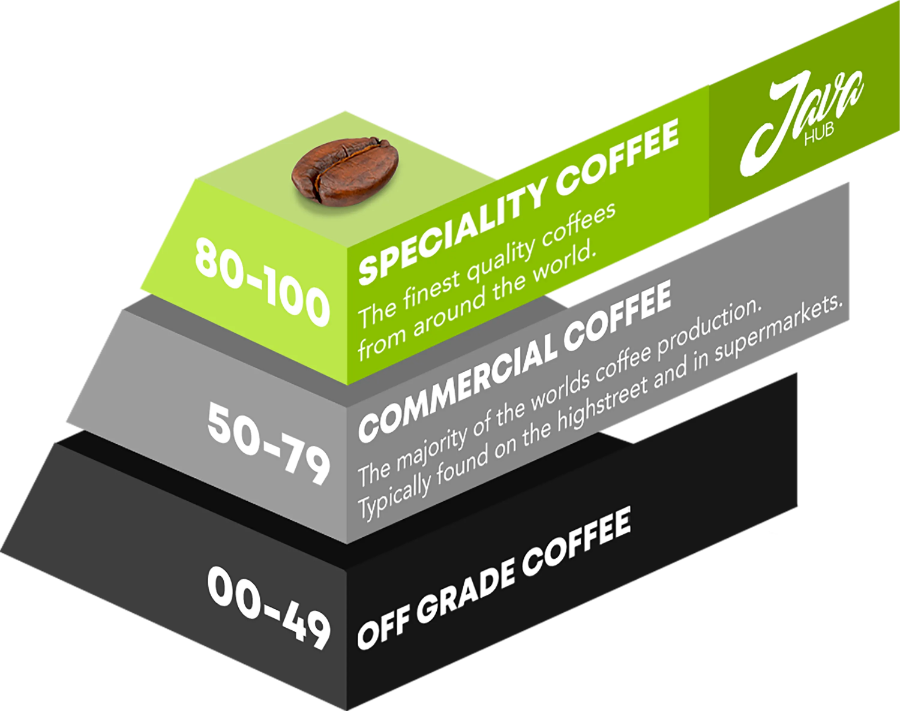 The grading scores between 0-100 and tests for:
Lack of defects
Zero primary defects and less than five secondary defects.
Sweetness
The more distinct and pleasant the sweet
flavours, the higher the score.

Acidity
Higher scores are generally given to coffees
where the acidity isn't overwhelming.
Balance
Striking a perfect match between bitterness
and sweetness will score well here.

Mouthfeel
The viscosity of coffee will vary and have
an influence.
Flavour & Aroma
Possibly the most important! Coffees with well developed
and refined flavours will generally score higher.
Extra Special At Every Step
Great coffee comes from the heart. It comes from the dedication and passion of those who have spent generations developing and nurturing unique methods and traditions of cultivating the coffee plant. It comes from a labour of love where quality is always ahead of quantity.
Farmers who produce speciality coffee beans dedicate their life in doing so and are fiercely proud of their offering, as they should be. The farms themselves are the pinnacle of coffee growing conditions with factors such as altitude, exposure to the elements and quality of the harvest process meticulously planned, practiced and perfected.
This cocktail of devoted, best practice is the first and absolutely essential step in producing speciality coffee.
We're not going to pretend speciality coffee isn't more expensive. It is. But you get a better quality coffee and thanks to higher profit margins for the farmers, that cup of coffee provides a better livelihood for those who grow it.
The part of the process which (if you're familiar with football you might say), "does a lot of work off the ball". Green Coffee buyers are responsible for the work which happens behind the scenes to bring the coffee from the fields to your cup.
Like a sommelier is to his or her wine, Green Coffee Buyers are highly skilled in both tasting and procurement. At this level they will be recognised as a Certified Coffee Taster by the SSCA or by the Coffee Quality Institute (CQI) as a Licensed Q Grader.
Their in-depth knowledge, understanding and passion for coffee drives them to build personal, long-lasting relationships directly with the coffee farms. These close relationships ensure both the finest quality of coffee beans are procured for the roaster but also that the coffee farm receives a favourable return for their considerable effort.
Along with a well-trained nose and palette for fine coffee, they will also typically handle everything from logistics to the creation of tasting notes on the packaging.
The Speciality coffee journey goes further than the precise cultivation and careful selection of the best coffee beans. Let's step away for a second, imagine you're making a classical, Italian bolognese, you've sourced the ingredients from the Bologna region itself, you've followed every process, Mamma's impressed, you're doing great... but you decide to thicken it with Ketchup. You wouldn't would you? Well, it's the same principle with speciality coffee beans. They deserve the respect that has been shown to them at every stage of their journey thus far.
It is for that reason that 'The Roaster' is fundamental to the creation of a truly great cup of speciality coffee. Coffee of this quality demands particular attention to details to the point where many consider it an art.
While coffee beans are roasted they must be watched constantly, roasters will apply a plethora of roasting tricks & techniques to ensure maximum flavour is drawn from each coffee bean.
Most modern speciality coffee roasters will be certified by the SSCA with hundreds of hours experience and education under their belt - what's more important, is the passion and desire to keep improving and raising the quality of their roast.
There's no speciality coffee without you.
It's your hunger for something a little bit different, your un-willingness to settle for the status quo. It's the very fact you're reading about what speciality coffee is.
Your interest in finer coffee creates the opportunity for all those involved in the creation of it, to be so. Speciality coffee really does create a better quality of life for the farmers who grow it compared to regular coffee growing options.
Your conversation with the barista about where the coffee comes from, what coffee beans they're using, why they use that particular technique to brew it, gives speciality coffee a reason to exist. It's the everlasting quest for quality, something in which you share with those who make it. There will be a story associated with the speciality coffee you're buying. Next time you're in your favourite coffee-shop, why not ask?
Take a look at our speciality coffees. Freshly roasted. Full of flavour and with you the next day.